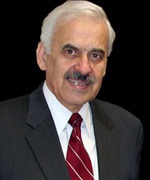 I became all

By Dr. Peter Vourliotis

A revival spirit filled the 75th Greek Conference in Oakland, California, in July 2010. Speaker after speaker delved into Paul's confession to the Corinthians, "I have become all things to all men, that I might by all means save some" (1 Cor. 9/22).

Paul's claim in Philippians 3/5, "a Hebrew born of Hebrews," was later changed to "a teacher of the Gentiles" (1 Tim. 2/7, Gal. 2/9, Acts 9/15 and 23/11). Today, Jewish believers claim a special place in God's plan. Greeks claim a special place too. Both Jews and Greeks take Romans 1/16 as their position, "For I am not ashamed of the gospel of Christ, for it is the power of God to salvation for everyone who believes, for the Jew first and also for the Greek." But, are they correct?

Romans 1/16 stresses the power of the gospel to save all who "believe." Paul may not have favored Jews, Greeks, or any other community. To the believers in Rome, Paul revealed his passion to make salvation through faith known to "all." The Greek word for all is "pa?t?" (pante) meaning "everyone" and "of every kind." So, Paul desired that every person be a follower of Christ. And, he was ready to use all means and avoid all hindrances in order to accomplish it. Are we as passionate as Paul was to reach everyone irrespective of geography or history with the gospel?

Some, however, argued Paul lacked the apostolic status articulated by Peter and agreed by those who selected Mathias to fill Judas' place (Acts 1/21-22). In 1 Cor. 9, Paul engaged his critics with irrefutable questions as, "have I not seen Jesus Christ our Lord?" and "do we have no right... to refrain from working?" (1 Cor. 9/1, 4-6) The charge against Paul persisted, forcing an appeal to his son in the faith, "for which I was appointed a preacher and an apostle--I am speaking the truth in Christ and not lying--a teacher of the Gentiles in faith and truth" (1 Tim. 2/7). Paul then proved from Scripture his right for financial support, but settled for a secular employment (1 Cor. 9/15) in Corinth, to make his ministry blameless (1 Thess. 2/10). He committed himself to the law of love, and opted to serve others. Paul would say, "it would be better for me to die than anyone should make my boasting void," and "I may present the gospel without a charge, that I may not abuse my authority in the gospel" (1 Cor. 9/15, 18). Neither finances nor critics could stop him. The fiercer the opposition, the more he would say, "... forgetting those things that are behind..., I press toward the goal for the prize of the upward call of God in Christ Jesus" (Phil. 3/13-14).

The Word of truth and the preaching of the gospel were Paul's precious "deposit" (2 Tim. 1/12) or "pa?a?ata????" (parakatatheke) Christ had entrusted to Paul at his Damascus conversion. Paul was ready to take it to his death in Rome. Paul's declaration in Romans 1/14 and 15 steered him through life's challenges. "I am a debtor both to Greeks and to barbarians, both to wise and to unwise. So, as much as is in me, I am ready to preach the gospel to you who are in Rome also."

For Paul, the gospel called for two conditions: becoming a servant of all, and all things to all. As a servant, Paul desired to save "the more." By many methods and by becoming all things to all, he strived to save "some." As a servant, he saved the majority, and by his example, the minority. He submitted to Christ and to the customs of his hearers (1 Cor. 9/19, 22). Today, when success is measured by instant results, it is still God's sure way in redeeming a lost world of many languages and customs by being a servant. Paul was the servant of God and of men.

Paul's love for Christ embraced every culture, custom, and cost. He was a debtor to Romans, Jews, Greeks, and barbarians. Paul concluded, "Woe is me if I do not preach the gospel" (1 Cor. 9/16).

May we say the same as the first century apostle and "teacher of the Gentiles." And, may we preach Christ with passion to all, whatever the cost and wherever the Lord may have us serve Him. Amen.

Scripture passages are from the NKJV.